I recently went through the process of purchasing an air conditioning system for one of my Sydney houses and would like to use this web page to help anyone else who is looking to buy an air conditioning unit – my experience will save a lot of research time. Some of the information will be relevant and specific for Sydney people however you will find that the advice here will be valuable to people all around the world.

Specifics will be around what websites or air conditioning companies there are in Sydney however when it comes to the actual air conditioner there are only so many types of a/c units that you can chose from; from smallest and least expensive to largest and most expensive the list goes as follows as far as the categories:
portable air conditioners
split system air conditioning units and
ducted air conditioning
Portable air conditioners
One of my friends has a portable home air conditioner so I have seen it in action – let me tell you, there is nothing wrong with those systems, they're quick to install, cool down the room very quickly and as the name implies, you can move them around very easily. The main benefit they provide is that you can very quickly deploy them to different rooms depending on your needs – lunge room during the day and bedroom over night. They come with a little remote control that allows you to change temperature from cold to colder. There is no heating available with these.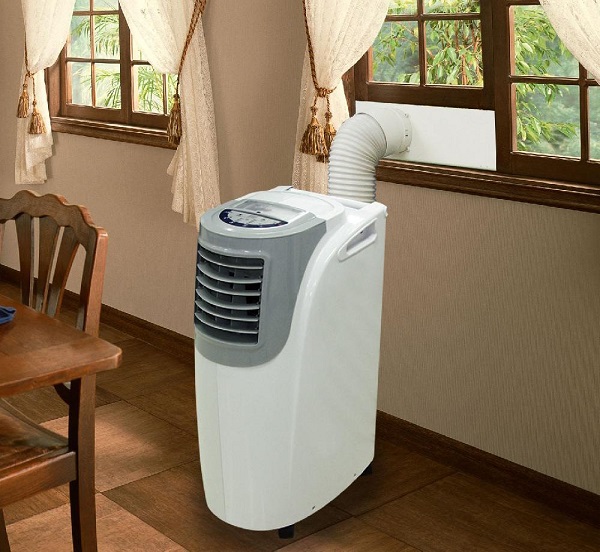 Unlike the more powerful a/c systems below, these home air conditioning units are not produced by major brands and come with names you never heard of but that's okay – my friend has been using it for few years now and had absolutely no repairs or any other issues. Just grab yourself an el-cheapo – they're range in price from about $350 dollars and you shouldn't spend more than $550 here.
Split system air conditioners
It has been a very hot summer down here in Sydney Australia and if you like a more comprehensive solution without breaking the budget, you would have to look into so called split system air conditioners. A permanent installation is required by a professional and qualified a/c installer and once that is out of the way, they are out of the way as they are affixed on the wall and are visually very pleasing. Quiet operation is also one of it's characteristics. Unlike the portable units, split system air conditioning units are made by all the major brads such as a very popular Fujitsu, Daikin, LG, Samsung global air conditioning manufacturers.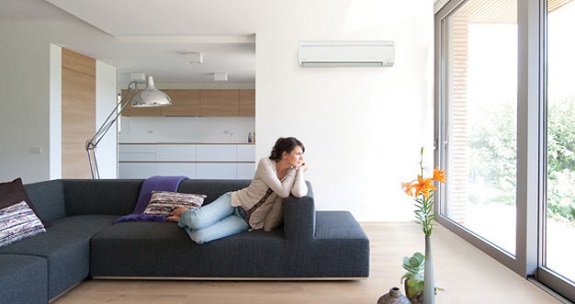 Another difference is that split systems do come with reverse cycle which means you have heating in winter and cooling in summer which is very handy. As far as the price, they range from about $1,500 fully installed and up. Depending on the size of your area will depend what power unit you will be needing and they are expressed in kW.
The final difference is that instead of being a compact all in one unit, split a/c consist of an internal part and an external compressor unit that looks like a big fan enclosed in normally beige housing and is normally tucked by the house wall just outside and out of the way.
Ducted air conditioning
If you are in a need of a comprehensive heating and cooling solution then you must look at ducted air conditioning options. Just think of your office, at work – it is pleasantly warm in winter without seeing the actual heat source unlike your typical heaters. Also on host summer days you always find your work office nice and cool – I know I do.
This atmospheric comfort is provided to you by a form of ducted air conditioning. Office buildings will have large a/c compressors normally on the roof and will be distributing air via a network of ducts and vents – hence the name of ducted air conditioning.
Home ducted air conditioning consists of one part that is normally situated inside the house roof if we are talking about your typical brick veneer Sydney home. You will then have hidden ducts diverting cooled or heated air to different areas of your home. Almost all models will have 2 or more zones that you can control independently using either a wall air conditioning controller or a remote control. Samsung was one of the first air conditioning manufacturers who introduced a smart phone application that allows you to control your air conditioning unit when you are not at home.
As with split systems, ducted air conditioning models are manufactured by all the major brands and most popular with Sydney people seem to be Fujitsu, Daikin and ActronAir – this was my research. Part of my research was to hit the internet, then I made some calls and felt most comfortable with Frost air conditioning http://www.frostair.com.au/ out in Sydney's Castle Hill area. They had loads of positive reviews and I ended up buying Actron Air ducted system which was installed in my terrace house and I am very pleased with it.
Do your own research and negotiate the best price, however expect to pay $5,500 or more for a ducted air conditioner. It it a big job, however a/c company, Frost air in my case will take care of it all for you.